I am on South Beach.  Not the actual South Beach, I wish.  No, I am ON South Beach, as in the diet.  I don't like the word diet; it immediately makes me want to binge on horrid unhealthy comfort food.  And perhaps maybe I in fact did do go that route the day before I started this diet.  Anyway, I went into this not as a diet that I am on, but instead a way I should be feeding my body.
After a not so favorable report from the Doctor (nothing serious), which included the advice to start eating low-car, low-sugar, low-fat.  How fun does that sound?  The main concern, at least to me, is the fluctuation in my blood sugar and it just making me feel "off".  I knew South Beach would fit the bill, and I've seen my mom have great success with this eating plan for dealing with similar issues.  I had her books and decided this was the easiest route to go.  I didn't want to count calories, carbs, points; I didn't want to have to THINK too much about it.  Over-complicating is just a risk for failure.
My plan for the week was keep it simple, even if it meant eating the same meals over and over.  I made a batch of egg cups for breakfast, cheese stick for snack, a salad with protein for lunch, hummus and vegetables for an afternoon snack, another protein with salad and steamed vegetables for dinner.  Sugar free Jell-O was the big treat for the day.  Maybe with low-fat Cool Whip if I was feeling crazy.  Boring, but easy.  Easy was the key, it allowed me to prep most of the food on Sunday to prepare for the week.
Week one down and I can say I feel 100% better already.  My blood sugar definitely feels more stable.  The biggest downside is my energy level was SO LOW.  My workouts were very tough, though the a.m. one was a ton easier than the p.m. one.  I think that will correct itself in time, actually by Sunday I could feel it coming back.  Eating was easy all week, I actually felt fuller than normal.  Getting enough fiber was an issue and honestly one I didn't give much thought going into this, I figured with all the vegetables I would be good.  My co-worker came to my desk with a salted caramel cupcake Thursday and I turned it down without a second thought or regret that I could not have it.  THAT alone is major people.  Salted Caramel.  Cupcake.  Hello — I didn't even want it!
I did great all week, though I did give in once and enjoy the cutest cookie ever at a 1st birthday party for our friend's daughter.  It was staring me down, resistance was futile.  Buttery, salty, not so sweet.  Worth every carb believe me.  And happy to report the only time I faced temptation all week.  But then came Mother's Day.  Mother's Day was a tough one though since traditionally I am treated to a scone and latte.  New plan…Egg Baked in Avocado, Chicken Green Chile Sausage, Grilled Tomato.
Oh man the egg baked in the avocado was as creamy and decadent as I had imagined.  Yum.  Having it served to me in bed with a hot coffee while I got caught up on Glee, the best!  Anyone else watching Glee?  This season has been kind of lame and I was about to give up on it, but the past few episodes have been better.  I have to say, NeNe Leakes is perfect for her role, Sue calling her the "black Sue" was the funniest moment of the season.  Brittany never fails to entertain either with her statement against drilling for babies.  Drill Baby Drill.  Both LOL moments, literally.
Anyway, breakfast in bed was followed by an afternoon planting the garden, flowers, and overall yard prep for summer.  Finished up with a fabulous dinner and family movie time.  On the menu for dinner was scallops and a white bean gratin.
The scallops were grilled to perfection, if you run across this sauce I highly recommend it for seafood.
The white bean gratin was topped with crispy onions (like on a green bean casserole) and I only used Gruyere cheese, it tasted like French onion soup.  Certainly did not taste like a "diet" food, a comfort food for sure.  This is a great side, but would make a satisfying main course with a salad or some lean sausage.  My picture doesn't do it justice.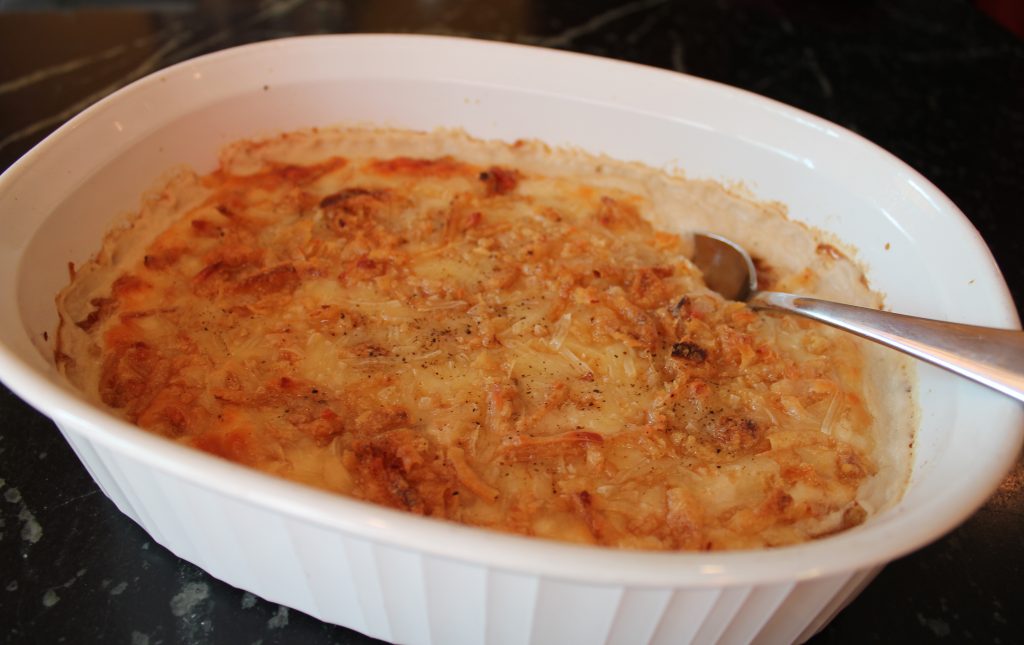 Ingredients
3 (15-ounce) cans cannellini beans, drained and rinsed
2 tablespoons olive oil
1 large shallot, finely diced
3 garlic cloves, minced or pressed
1/2 cup low-sodium chicken or vegetable stock
1/2 fat-free half and half
1/4 teaspoon salt
1/4 teaspoon pepper
2/3 cup crispy onions
1 1/2 cups freshly grated Gruyere cheese
Instructions
Preheat oven to 425 degrees F.
In a large skillet, heat 1 tablespoon olive oil over medium-2 heat. Add shallot with a sprinkle of salt and cook until soft, about 5 minutes. Add in 2 of the minced garlic cloves and cook for 30 seconds, then add in white beans and stir.
Let beans heat for 3-4 minutes, then remove 2 cups of beans and place them in a blender. Add in stock, half and half, 1 tablespoon olive oil, salt and pepper, blending until totally smooth. Pour contents back into the skillet and stir to combine.
Spray a baking dish with nonstick spray. Pour bean mixture into the dish.
In a bowl, combine cheeses with crispy onions bread crumbs, spread mixture over top of beans.
Bake for 23-25 minutes, until top is golden and bubbly.
Onto South Beach, Phase 1, week 2.  Starting the week without creating a deficit on the weekend is helpful.  The menu  week is little more exciting, hopefully it goes just as well.