The whole low carb thing is easy enough with a few exceptions…
Pizza
Beer
Party Food
I've been happy enough with a few alternative pizza crust options, but bottom line it just isn't the same.  There is no substitution for pizza.  Same goes for beer, the low carb options just don't cut it.  Especially in summer.  Party food is the hardest one, sure I can find low carb dip options, it is the dippers that are the issue.  Sure there are plenty of options, but they take more effort than say chips, crackers, bread.  We had an end of the year happy hour so I needed some new low carb party options.  I found some good ones to go with though…
Chicken Satay with Peanut Sauce
Roasted Asparagus with a Parmesan Dipping Sauce
And the B I G winner, Buffalo Cauliflower Dip. No surprise given my latest obsession with cauliflower and my established love of buffalo sauce.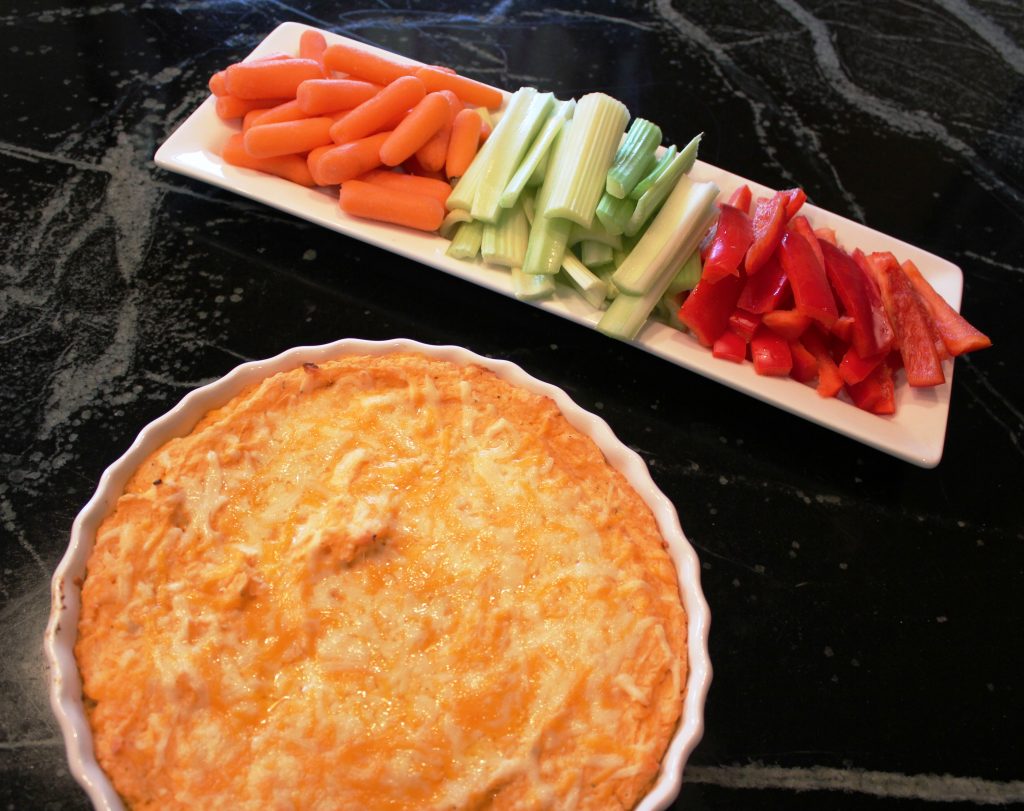 I swapped in steamed, pureed cauliflower for the chicken in this buffalo dip recipe.  I did not puree the cauliflower until completely smooth, I left a few chunks for the added texture.  Served it up with carrots, celery, and red pepper strips.  Amazing — low carb, low-fat, a bit of protein and fiber.  According to my calculations, split 8 ways, a serving is under 150 calories.
Ingredients
1 head cauliflower
2 oz. fat-free cream cheese, softened
8 wedges of Laughing Cow Light Blue Cheese
1/2 cup fat-free sour cream
3/4 cup Frank's RedHot Wing Sauce
1/2 packet of Hidden Valley Ranch Dressing Dry Mix
1/2 cup cheddar, shredded
salt & pepper
Instructions
Cut cauliflower is large chunks. Steam until tender.
Combine all ingredients in a food processor. Process until smooth, but with a few chunks.
Salt and pepper to taste.
Spread mixture in a baking dish, top with cheddar cheese.
Bake at 350 degrees for about 20 minutes.
Serve with carrots, celery, and red pepper strips.