Minus the weekend, I missed half of February at work.  Dare I say I was happy to return.  Lunch at Union Sushi (two thumbs up) made my return even more enjoyable.  Jury duty went late, later than I usually get home from work, so the husband was on dinner duty.  Good thing because I was so beat by the time I got home. We missed celebrating Chinese New Year, Fat Tuesday was spent in a jury room.  Definitely missed our usual celebrations.
I did make some time to get in the kitchen over the weekend.  Made some cookies to share with my fellow jurors, Nutella Peanut Butter Oatmeal cookies…
These were the quickest cookies I have ever made.  In less than 30 minutes I had them cooking on a rack and the kitchen clean.  They got eaten up just as quick, they never saw the jury room.  Great low carb dessert option.  They are chewy, chocolatey, and delicious.  Instead I made and secured away some peanut butter blossoms.  They were good sustenance on deliberation day.
Sunday dinner was a winner in my book, Creamy Shrimp Creole Soup with Bacon-Cornmeal Dumplings.  Starts with bacon, ends with shrimp, how could it be bad.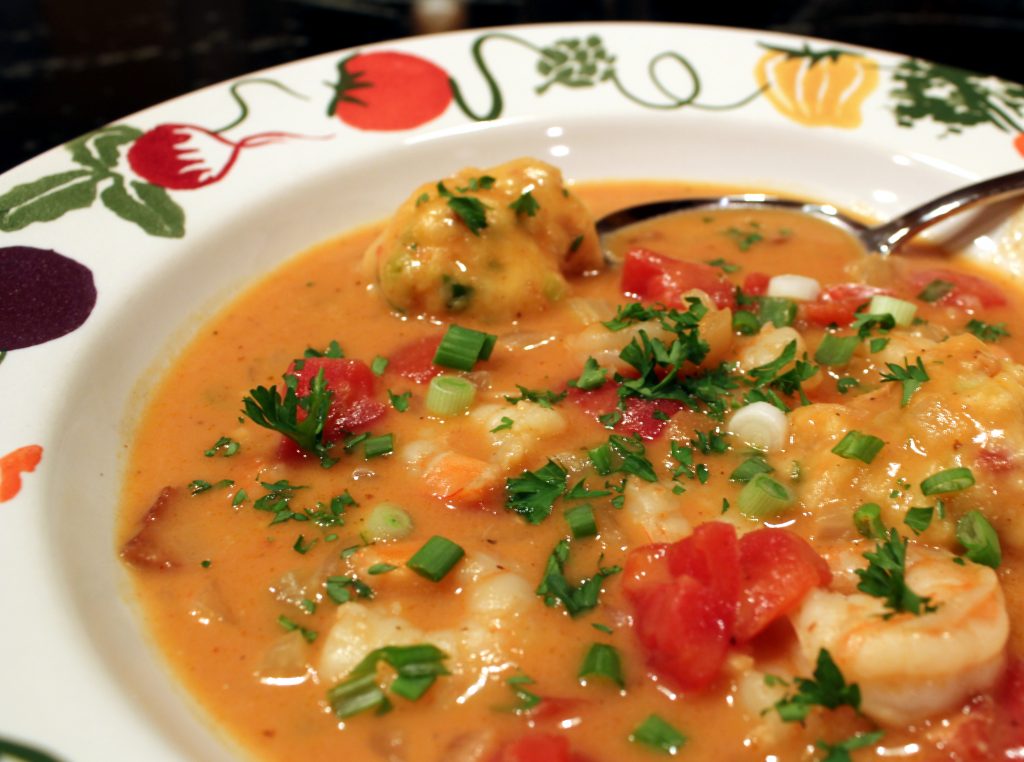 I used half the Tabasco and red pepper flakes, it still had a really nice kick to it.  The touch of cream works perfectly, the dumplings are amazing (though next time I will make them into smaller ones).  Great as leftovers too.
I took yesterday off and had time for a home cooked meal.  I've had my eye on this recipe for salt and vinegar kale mashed potatoes.  I love salt and vinegar anything, can't believe I never thought to try this before.  I used small potatoes and kept the skin on.  Yummy with the vinegar, the kale just blends right in.
The potatoes were just the comfort I needed.  With the husband away, they hit the spot as Valentine's Day leftovers too.