We had a very low-key weekend, it was soooo nice. I even found a few hours to park myself on the couch under a nice warm blanket and read my book uninterrupted. It has been months since I finished a book, such a rare treat.
I was also able to spend some time in the kitchen, took on another recipe from Plenty, the cookbook by Yotam Ottolenghi. I have made a few recipes from this book, and they all are better than the next. Recipes like sweet potato wedges with lemongrass dipping sauce, burnt eggplant with tahini, and smoky frittata. The smoky frittata is my fav! HIs cookbooks have a cult following, now I know why.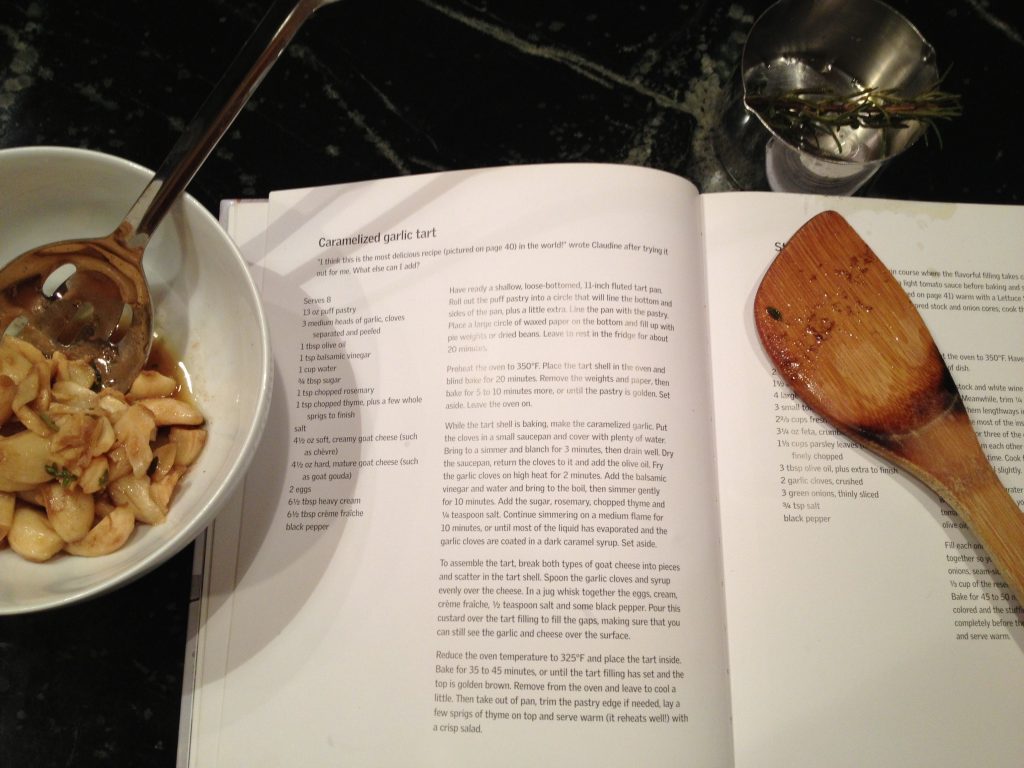 This time I gave the caramelized garlic tart a try. Easy enough recipe, though peeling all the garlic cloves was a pain in the ass, and I reeked of garlic. Quick wipe of my hands on the stainless steel faucet and I was good as new.
Caramelized Garlic Tart
Author:
Prep time:
Cook time:
Total time:
Ingredients
1 sheet puff pastry
2 medium heads of garlic, separated and peeled
1 tbsp olive oil
1 tsp balsamic vinegar
3/4 cup water
¾ tbsp sugar
1 rosemary sprig, whole
1 tsp fresh thyme, chopped
4 oz soft goat cheese
4 semi-soft goat cheese
2 eggs
1/2 cup whipping cream
1/4 cup sour cream
Instructions
Preheat oven to 325.
Roll puff pastry, and place in pie pan. Bake 20 minutes.
Place garlic cloves in small pan, cover with water, bring to a simmer, and blanch for three minutes. Drain.
Warm olive oil over high heat, add garlic, and fry for 2 minutes.
Add vinegar and water, bring to a boil, and simmer for 10 minutes.
Add sugar, herbs, a pinch of salt, and continue to simmer until most of the liquid has evaporated and liquid becomes syrupy, about 10 minutes.
Set garlic aside, discard rosemary sprig.
Break the cheeses into big bite-sized pieces and scatter into the partially baked crust.
Add the garlic and syrupy sauce.
Whisk together the eggs, cream, and sour cream, 1/2 teaspoon of salt, and generous pinch of pepper. Pour over everything.
Bake 45-55 minutes, until the filling has set and the top is golden brown.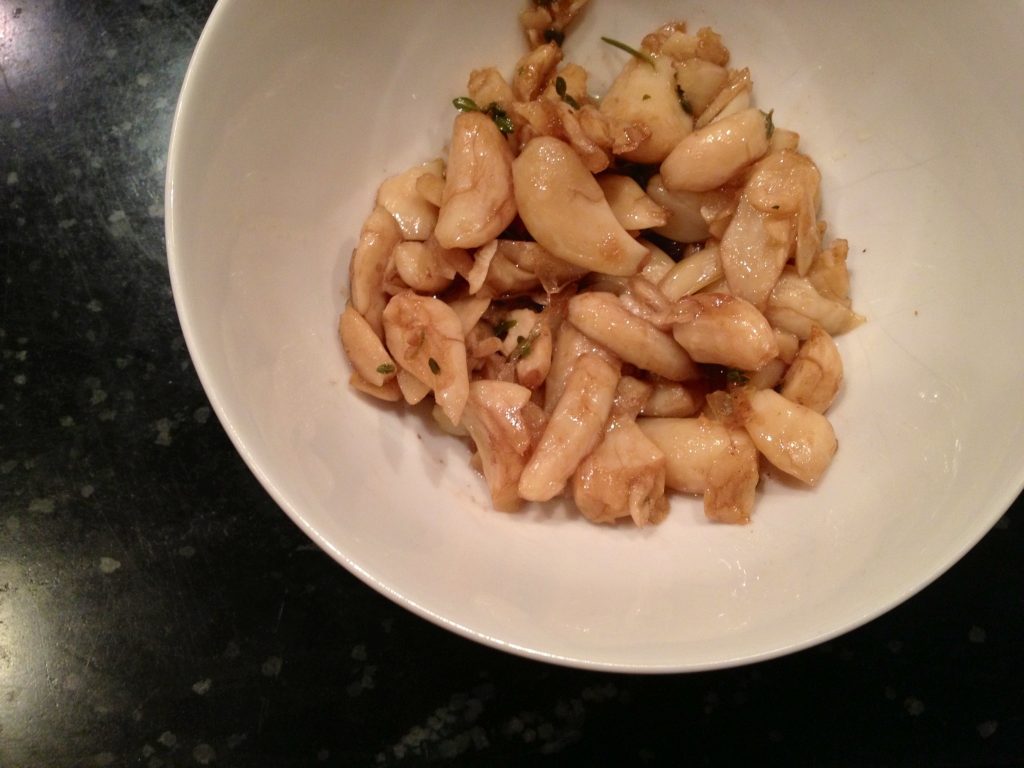 I could have stopped at making the garlic, and just spread that on bread. Syrupy sauce not pictured, I removed the garlic and cooked it down to thicken some more.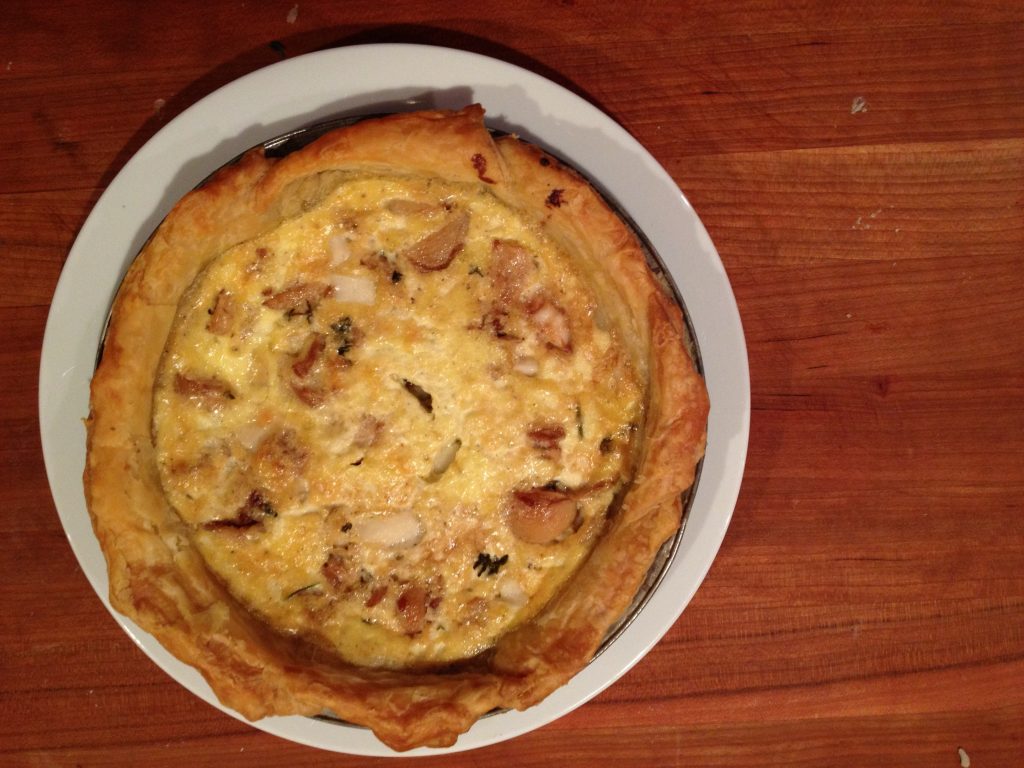 My finished product is not purty, but it sure was tasty! The garlic flavor is not harsh at all. It is similar to flavor as roasted garlic, however the cloves have a more solid texture, it is not as spreadable (if that makes sense).  No matter, it was delicious! It is rich, so best served with a nice crisp refreshing salad.
Onto a crazy fun week, glad I was able to get some r&r to prepare.